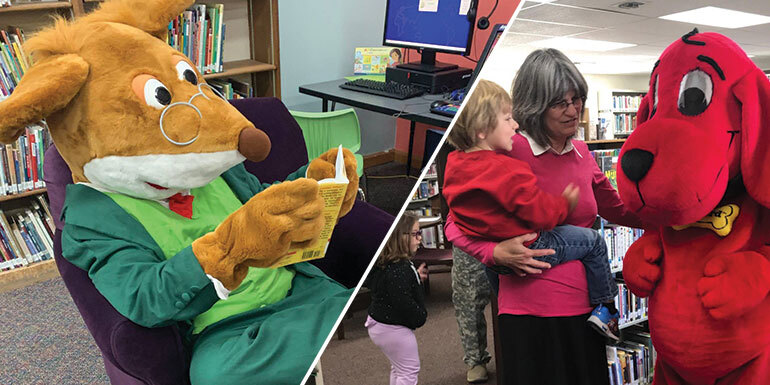 Fall 2021 Storytimes
Bring out your favorite jammies for virtual pajama storytime! Enjoy storytime with Miss Mary virtually through Google Meet! 
Google Meet link will be sent out via email before the program. 
Registration required. Registration begins 9/27. 
Designed families to join in from home! Hear stories, songs, play games together while building a strong foundation for literacy. Registration required. This program will take place virtually over Google Meet. 
Registration required. Registration opens 9/30.
Join Mrs. Mooi for a storytime designed for school aged children grades Kindergarten - 2nd grade.
Every Monday starting September 13th - October 25 @ 4:30 pm deAngeli Branch Meeting Room. 
Registration required. Registration begins 8/30.
Storytimes at the Branches!
Miss Kathy travels to each branch for a special weekly storytime best for children 3-5 years of age. All ages welcome for this family storytime, but crafts are selected with 3 – 5 year-olds in mind. Registration is required. 
Fall 2021 Schedule 
Otter Lake Mondays 10 a.m. 
Elba Mondays 11:30 a.m. 
Hadley Tuesdays 11 a.m. 
Columbiaville Wednesdays 10 a.m. 
Clifford Wednesdays 11:30 a.m. 
Metamora Thursdays 11 a.m. 
See Upcoming Events for exact dates.
Early Literacy Tips for Storytime and BEYOND!
There are a number of things parents and caregivers can do to support the development of their child's early literacy skills. Among them are five simple practices: singing, talking, reading, writing and playing. While we try to incorporate them all into storytime, here are some tips for incorporating them more at home!
Sing
Singing is a great way to learn about language. When we sing, the sounds that make up words become more evident. Best of all, you can sing anything you want! Songs are great, but you can try silly things too like singing a recipe, directions, or maybe even try singing a rhyming story book.
Talk
Children need to receive and create language to learn it. Try expanding on your usual vocabulary so different sounds and words can be heard.
Read
Share books together! We hope that you utilize our collections for a chance to read more books and access more variety than you may have at home.
Write
Scribble, draw and make tactile art. Scribbles are wonderful practice for working on early writing skills!
Play
Children experience the world through play while developing fine and gross motor skills, cognitive concepts, language and social skills. Try using sock puppets, toys, or even your fingers to recreate a book read in Storytime.