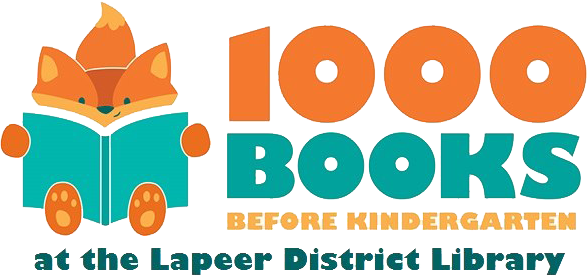 1000 Books Before Kindergarten (1000B4K) is a self-guided, ongoing reading program designed to help parents prepare their children for one of life's big milestones - kindergarten!
Studies have shown that the more children hear books read to them at home, the more prepared they will be to learn to read upon entering school. The goal of 1000B4K is to encourage every child to be exposed to at least 1000 books before kindergarten.
When a child has read 500 books, they will receive a purple book bag and book.  At 1000 books, they will receive a special prize from the Friends of the deAngeli Branch Library. 
Register for 1000 Books Before Kindergarten through our online tracking system Beanstack. Contact your local LDL branch for more information about Beanstack or 1000B4K. 
Scroll down to see answers to frequently asked questions about 1000B4K.
Any child from birth until kindergarten. You can sign up by visiting any branch of the Lapeer District Library (beginning January 5, 2016).
Children can be read to from the day they are born. From the time they are infants, children learn language and other important skills that will help them learn how to read. 
Developing literacy skills begins at birth and continues throughout the toddler and preschool years. The best way to ensure a child has the skills necessary to learn to read is having someone read aloud to them. As a parent or caregiver, you are your child's first teacher. Home is where your child begins to learn. When you talk, sing, read, write, and play, you are helping your child get ready to read!
Yes! Completion will take from a few months to a few years, depending on how often you read.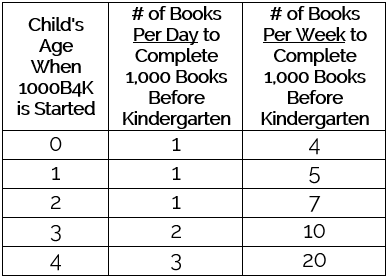 There is no required or suggested list of books. The picture book collection at the library is a great place to start!
Any time your child listens to a whole book, it counts! It can be a library book, a book from home, a book read at story time or daycare, even an audiobook or an e-book. If your child asks to read the same book every night at bedtime, it counts each time you read it.